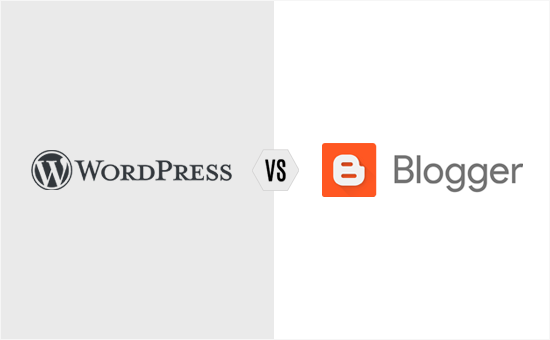 What is WordPress?
WordPress is a free open source software that allows you to easily create a website, blog, or an online store. Started In 2003, WordPress now powers more than 30% of all websites on the internet.
You can download the WordPress software for free and use it unlimited on as many sites as you want.
What is Blogger?
Blogger is a free blogging service by Google. Started in 1999 by Pyra Labs, it was acquired by Google in 2003, and they redesigned it as the product it is today.
Blogger is a free blog hosting service that lets you create a blog completely free of cost. You also get a free Blogspot subdomain for your new blog (Also you can use a custom domain for free).
Differences:
Ease of Use:
Most users who want to create a blog are not web developers. They are passionate writers and storytellers, or they are non-techy business owners. An easy to use blogging platform can empower them to present their stories to the world.
Setting up a blog in WordPress is a simple and quick process. It requires no coding skills, but it does require you to know how to point-and-click on a computer screen to set up WordPress and install WordPress apps.
Blogger is a simple blogging platform where you can create a blog in just a few minutes. You simply need a Google account to get started. Go to the Blogger website and then sign up with your Google account. After that, you can find a 'Create New Blog' option, where you need to click to start the process. Next, choose your blog title, blog address, and a theme.
Ownership
Ownership of your blog is another crucial aspect to consider while choosing a blog site. Having full ownership of your blog gives you the freedom to do anything, including how to handle it, how to monetize it, and when to shut it down.
With WordPress, you use a WordPress hosting provider to host your site. You are free to decide how long you want to run it and when you want to shut it down. You own all your data, and you control what information you share with any third party.
Blogger is a blogging service provided by the tech giant Google. It is free, reliable most of the time, and has enough features to publish your content on the web. However, it is not owned by you. Google runs this service and has the right to shut it down or shut down your access to it at any time.
Control and Flexibility
Another important thing you need to consider is flexibility options. Does your blog site let you fully control the design and functionalities of your blog?
WordPress is open-source software, so you can easily extend it to add new features. You can add almost any functionality imaginable to your WordPress blog with plugins and third-party integrations.
Blogger is a fine-tuned service with minimal tools allowing you to perform only specific tasks on your website. The things you can do on your Blogspot blog are limited, and there is no way you can extend them.
Appearance and Design
The appearance or the design of your blog plays a vital role in attracting users and engaging them on your site.
In WordPress, there are thousands of free and premium WordPress themes that allow you to create professional-looking websites. There is a WordPress theme for just about every kind of website. No matter what your site is about, you will find plenty of high-quality themes that are easy to modify and customize.
Blogger, by default, only provides a limited set of templates to use. These templates look basic as they have been used on thousands of blogs. You can modify the colors and layout of these templates using the built-in tools, but you cannot create your own layouts or make modifications.
Security
Security is another essential aspect you need to consider while selecting your blog platform. Unless you pick a secure platform, your investment and time can go to waste if your site is blacklisted or hacked.
Using Blogger, you have the added advantage of Google's robust, secure platform. You don't need to worry about managing your server's resources, securing your blog, or creating backups.
WordPress is quite secure, but since it is a self-hosted solution you are responsible for security and backups. There are plenty of WordPress plugins that make it easier for you.
Confused which one to choose?
No worries, we have an article on that. We have created why to choose WordPress or blogger with valid reasons. See below:
WordPress vs. Blogger - Which one is Better?
Reviewed by
Arjun Singh
on
October 12, 2019
Rating: